Ghostbusters Mania is proud to present "Interviews with Ghostheads" with Vincent of the Southern California Ghostbusters.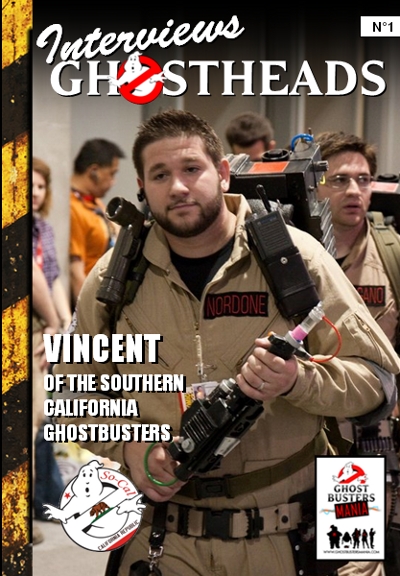 First interview! soon other!
We salute Vincent's great passion.
Vincent, tell us a bit about yourself. Who are you? What are you doing? Other hobbies or interests?
Hello, thank you for having me. I'm originally from NY (the home of the Ghostbusters) and I'm currently living in San Diego. I work as a programmer and in my off-time I like to do a little gaming or work on building all kinds of movie props. I spend a lot of time on the internet too (probably more than I should admit to).
Where did you love for Ghostbusters come from?
I've always loved the Ghostbusters franchise, it was something that became a part of my life very early on and I've been a fan for as long as I can remember. I first saw Ghostbusters on VHS, I was born in '82 so I was a bit young when it was in theaters, but I watched that tape so many times that it eventually stopped working.
I loved the animated series and I had all the figures and collectibles. I got to see GB2 in the theater when I was about 7 years old.
When and why did you start building your GB uniform and equipment?
I began working on my gear in early October of 2009, I wanted to be a Ghostbuster for Halloween and the inflatable proton pack costume just wasn't up to snuff. After playing the PS3 game, something from my childhood had been awakened and I had the GB bug again, just like when I was a little guy.
My first uniform and Proton Pack were built in about 3 weeks, just in time for Halloween. It was a childhood dream realized but after it was finished I found myself wishing that I had put more time into it. I really wanted to capture that magic from the big screen.
Ever since then I've been constantly building and rebuilding the props from the films and I've even branched out into some other films' props.
We see that you've participated in many events. What's been your favorite event so far? And why?
It's really hard to choose… This hobby has been so great to my group and I. We've had the opportunity to meet with so many wonderful people who worked on both Ghostbusters films, that's one big advantage of living so close to Hollywood.
I think my favorite event would have to be the recent GB1 screening at the ArcLight Theater. There was an awesome QA before the film (search for it on youtube) and they played a crystal clear print. I think what really made the night special was how great the audience was. Everyone was laughing and just in really good spirits. I think for a lot of people it was just as great as the first time they had seen the film.
What does the term "Ghosthead" mean to you? Why did you get involved with a "franchise"?
I think the term was a quick way to label all the Ghostbusters Fans of the world, whether it be the casual fan or the full-time prop builder. I don't really call myself a Ghosthead though, if anyone asks I tell them I'm a Ghostbuster :-).
As for the franchse, during the process of gathering parts and doing research for my first proton pack I made some connections with a whole slew of really great people.
Back in December of 2009 there was a local Dan Aykroyd signing and a Ghostbusters themed charity event on the same day. Before then I had never worn a costume outside of the Halloween season but after a bit of discussion the guys and I decided to don our gear for occasion. It was the first time that most of us had met in person but we all got along really well and I guess the rest is history. Now we all hang out all the time in and out of uniform. I'm thankful to have met such a great group of guys.
We see that you've participated in the film "Ghostbusters franchise Italy". It shows that this passion has no boundaries. What was the experience like? Will you act in any other fan films?
I had such a good time working on that project. I never had any doubts that it would come out great but I was just so blown away by the final product. It was better than I ever expected and I'm honored to have been a part of it. I think it really captured the spirit of the films and I loved everyone's performances.
I've actually been involved with a few other GB themed films since then and I'd love to continue doing more in the future.
Thanks so much Vincent! Greetings to all your spectacular franchise from Ghostbusters Mania.
Next week with another interview with a Ghostheads!