"Interview with Ghosthead" with Tara of the Ghostbusters U.K.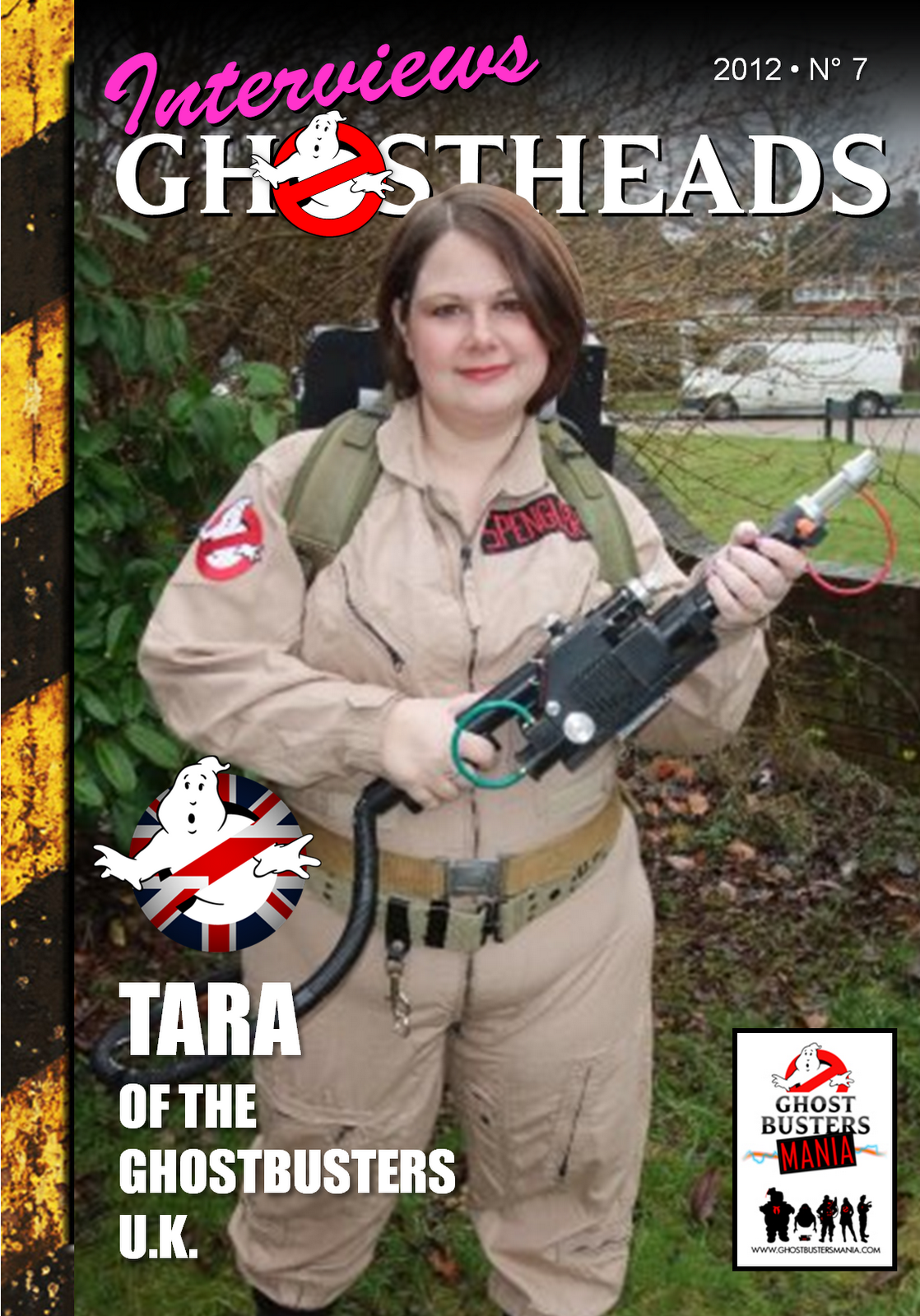 Ghostbusters Mania is proud to present N°7 (2012) "Interview with Ghosthead" with Tara of The Ghostbusters U.K.
Tara, tell us about you. Who are you? What do you do? Do you have other hobbies?
Well, I'm 34yrs old, originally from Alabama but now live on the outskirts of London UK with my husband, son and three cats (my white male cat is named Stay Puft!) I'm currently studying psychology with the Open University for a bit of fun. I love to travel but my favorite place to go is back to Alabama to visit family and friends. We're very into Disney in my house so we go the parks at least once a year and collect/trade the Disney pins and Vinylmations. I also collect a lot of GB stuff from autographed scripts and movie posters to figures.
How was the passion for GB born?
I was brought up on the original SNL shows and Blues Brothers so I always loved Dan Aykroyd. I grew up watching Bill and Harold in films such as Stripes, Caddyshack, etc. and I had always been interested in the paranormal GB was perfect for me. I don't remember the first time I saw the film, but it must've been at the cinema when it came out. I remember seeing GB2 in the cinema though. Oddly though I never had any of the toys as a child, not sure why. Loved the Real Ghostbusters cartooon as well. I just always loved it and would get into quoting contests with my friend Paul in high school. A few years ago, when the video game came out, I had the logo tattooed on the inside of my right ankle and used the game's version of the logo because I loved the shadowing on it giving it a more 3D effect. It's really thanks to my husband that I've been able to lavish on my love for GB because he's always looking for more GB things to buy me and allows me to spend money on my gear (he has his hobbies too).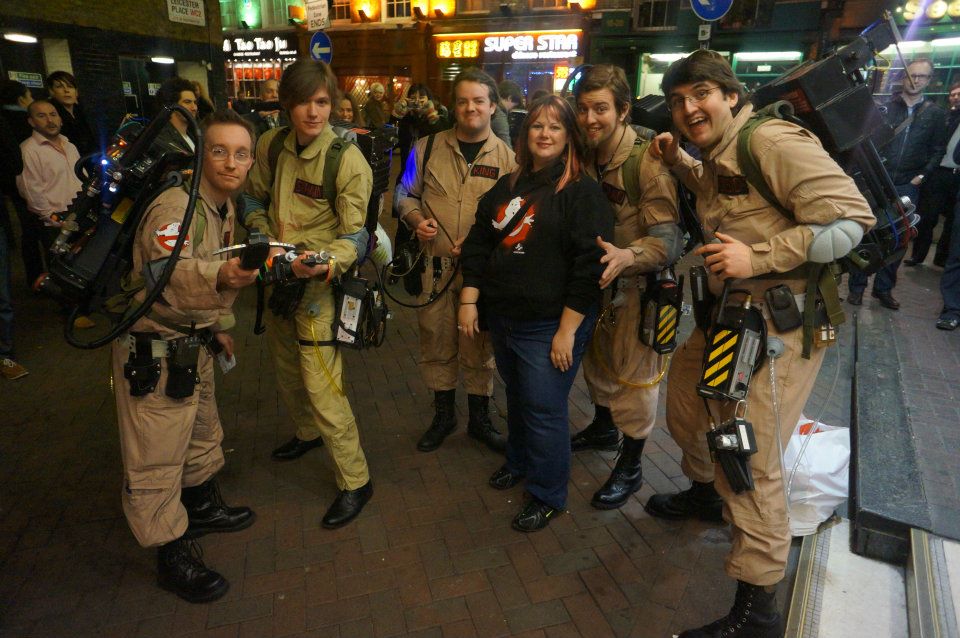 Why and when did you start to create your equipment?
I had always wanted to 'gear up' and I bought an outfit from a costume supplier for Halloween one year, complete with inflatable pack. But that was just to tide me over, I had to have the 'real' thing. I found the UK Ghostbusters and they helped point me in the right direction to get my uniform and one of the guys was selling a spare pack he'd made so I bought that, got my suit and put the patches on. As things came from Matty Collector I've gotten the PKE meter and trap.
We see that you've participated in many events. Which has been your favourite event until now and why?
Well meeting Dan Aykroyd was AMAZING! A true lifelong dream come true there and the fact that I had my son with me made it even more special. I loved meeting Slavitza Jovan a couple of years ago and she said that meeting ME was cool as she'd not seen many female busters before. Later that day our group of UK Ghostbusters managed to nab a group photo with her which was awesome! Before I knew of the UK GBs I met Ernie Hudson at a CollectorMania event and he loved my GB hockey jersey. Just being out in my suit is great, I always get loads of attention from people which I love. At an event I had a little girl ask me for my autograph and my heart just melted! Also some of us attended Screen on the Green in London where they were showing GB on a huge inflatable screen outside in this park and they had also hired an Ecto replica to come along for a while. When Ecto drove up towards where we were and kids in the park started running after it I just teared up. It was great.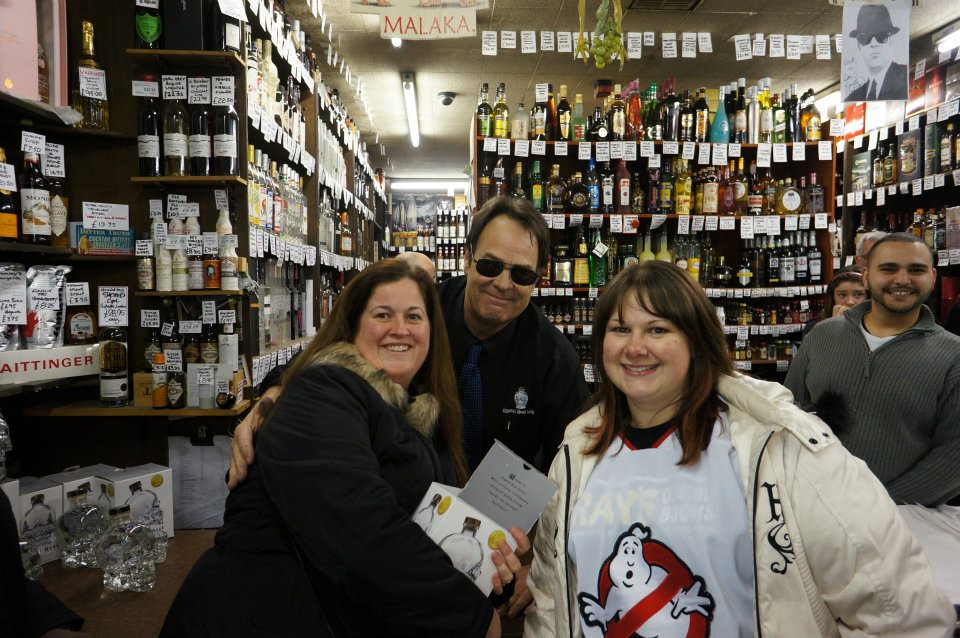 What does it mean to be a Ghosthead?
To me being a Ghosthead means that you're not just a fan of the film but that you take it all to heart. It's our version of a Trekkie/Trekker (I know there's a difference in those two). A Ghosthead is proud to be a fan and to suit up, do events whether charity or not, love to blare the theme from your car speakers with the windows rolled down. Ya know just a knowledge and pride basically.
What does it mean to you Ghostbusters group?
My group loves to do charity events and just putting smiles on peoples faces when they see us wondering about the towns. I love being in a group because, without sounding funny, I'm with people who 'get' me if that makes sense. We can pop certain jokes and use quotes and we understand each other in ways that other people would just look at us funny.
What are your plans for 2012?
I'm not sure what all I'll be doing this year other than the London & Film Comic Con and CollectorMania events later in the year. I've sadly not been ablt to get into my suit for a while so I'm doing a juicing plan to help me 'suck in the gut' and get back into it as I do miss getting 'booted & suited' especially when we're all at an event and I'm the only one not dressed.
Hi to all the fans in the world! Let's keep busting heads, in a spritual sense of course, keep putting smiles on people's faces, raising money for charities and having fun!